Local chapters of Ryan's Case for Smiles will use donated Baby Lock sergers to bring smiles to children with serious illnesses and injuries.
November 6, 2015 – St. Louis, MO – Ryan's Case for Smiles is keeping the smiles going for thousands of children across the United States with help from Baby Lock and its network of retailers. Baby Lock recently donated Eclipse DX four-thread sergers to 20 Baby Lock retailers, who presented the machines to their local Ryan's Case for Smiles chapters. These chapters provide whimsical pillowcases to sick children in an effort to help them cope with the stress of life-altering illnesses and injuries.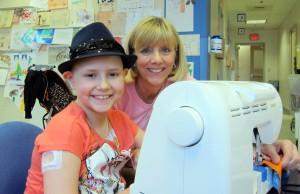 Ryan's Case for Smiles (formerly ConKerr Cancer) has donors and volunteers at more than 120 chapters throughout the United States, who have contributed more than $10 million in fabrics and supplies and more than 5 million volunteer hours since the organization's founding in 2007. In fact, on Sept. 17, 2015 – National PJ Day – Ryan's Case for Smiles donated its 1 millionth pillowcase.
Cindy Kerr, CEO and founder of Ryan's Case for Smiles, whose son inspired her to establish the organization, said the partnership with Baby Lock grew out of a relationship with Baby Lock retailer, Steve Chubin of Steve's Sewing and Vacuum in King of Prussia, Pennsylvania. It was Chubin who initially reached out to Baby Lock President Steve Jeffery.
"Last year we were fortunate to receive 10 sergers. In April I met with Steve Jeffery in St. Louis to explore ideas on how we could formulate a more official partnership," Kerr said. "This year Baby Lock donated sergers to 20 of our chapters. … In addition, Baby Lock donated seven sewing machines to the Philly chapter. These machines are used at our hospital sewing days with the patients along with other community events."
Local chapters of Ryan's Case for Smiles regularly create pillowcases and deliver the finished product to approximately 330 hospitals across the United States.
"Pillowcase sewing days are held several times throughout the month, which enables our chapters to supply pillowcases to hospitalized children in addition to allowing volunteers to try out a Baby Lock serger," said Kerr.
"We are very proud and honored to be a part of this great cause," Jeffery said. "We will continue to help and support all we can."
The Baby Lock Eclipse DX serger features Jet-Air Threading™, which takes thread through all three machine loopers with the press of a button. The Eclipse DX is the ideal machine for creating fun pillowcases to sooth, comfort and distract a child in physical and emotional distress.
For more information about Ryan's Case for Smiles, visit the organization's website, www.caseforsmiles.org.
To learn more about Baby Lock, visit www.babylock.com.
About Baby Lock:
Baby Lock has been a leader in the sewing industry since 1964. Today, the company offers a full line of easy-to-use, state-of-the-art sewing, quilting and embroidery machines, sergers and accessories, and industry-leading Gold Standard service and support. Baby Lock products are sold exclusively through independent retailers.
Baby Lock is a major underwriter of the popular PBS television shows "Sewing With Nancy," starring national sewing authority Nancy Zieman, "Quilt in a Day," starring national quilting authority and Quilting Hall of Fame inductee Eleanor Burns, and Fons & Porter's "Love of Quilting," starring Marianne and Mary Fons. For more information about Baby Lock, visit www.babylock.com.