The 2014 Sacred Sewing Room Tour Comes to a Close with Five Completed Makeovers in Five Cities Across the Country
Enchanted Makeovers and Baby Lock Sewing Machines are stitching up a great year of makeovers as the first-ever Sacred Sewing Room Tour comes to a close. The final event, held on October 18 at The Domestic Abuse and Sexual Assault Crisis Center in Washington, NJ, wraps up this life changing makeover tour. Since 2007 Enchanted Makeovers has been transforming homeless shelters for women and children into places that inspire behavioral and psychological change. The 2014 tour focused on creating "Sacred Sewing" rooms at domestic abuse shelters. The Tour touched the lives of hundreds of women and children and will continue to inspire lasting change and confidence through these sewing room makeovers. Photos of the completed rooms are available here via Flickr.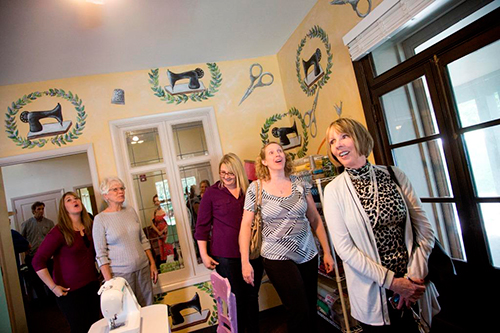 Enchanted Makeovers worked with Baby Lock Sewing Machines as the presenting sponsor to transform five rooms in shelters in St. Louis, MO; Easton, PA; Kansas City, KS; Lexington, KY; and Washington, NJ. More than 70 other sponsors and financial donors helped to fund the tour which enjoyed 100 percent of volunteer support from the Painters and Carpenters Union in each of the five makeover states. Along the way, over 75 volunteers gave their time to bring these rooms to life. Renowned muralist Anita Roll donated nearly 150 hours of her time to create custom-themed murals at each location.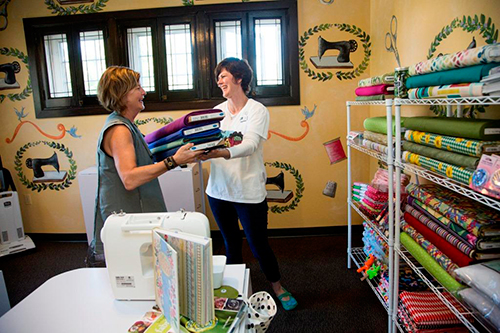 "I always say it takes a village and the Sacred Sewing Room Tour is no exception," said Terry Grahl, Enchanted Makeovers founder and CEO. "Having a presenting sponsor like Baby Lock and Tacony Corporation and other donors has helped us to create beautiful "Sacred Sewing" rooms with the supplies necessary to empower women through the life skill of sewing. Everyone involved in this project believes that sewing saves lives and seeing this in action with the women who use these sewing rooms reaffirms our belief time and time again."
As the tour spun into motion, the CeCe Caldwell's national retailers transformed 20 antique chairs with a custom-created paint color called "Enchanted Lilac" which was specifically created for the tour with ten percent of future sales benefitting Enchanted Makeovers. In a few short months, CeCe Caldwell has already raised over $5000 for Enchanted Makeovers. Sponsors and supporters donated more than 4,000 yards of fabric as well as all the cutting tables, ceiling fans, vacuums and all of the supplies for each sewing station. The 20 sewing stations were equipped with Baby Lock's popular Rachel sewing machine. Pattern maker Amy Barickman and her team at Indygo Junction created a custom pattern for this tour as well.
"It is hard to deny the passion behind this program," said Steve Jeffrey, President of Baby Lock. "We support Enchanted Makeover's Sacred Sewing Room Tour because we truly believe in the idea that sewing saves lives. Sewers have a shared spirit for helping others and spreading goodwill and the 2014 tour have proven to us that is what this is all about."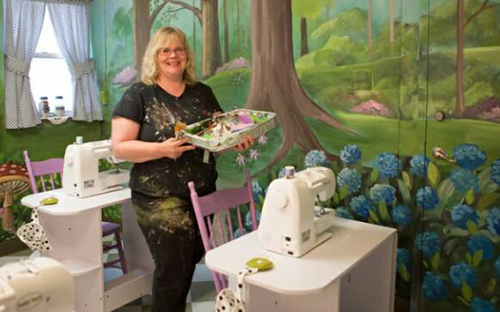 "What is truly amazing is that in each of these locations, the women are most excited to get behind the sewing machine and make something for a loved one," said Grahl. "Knowing that they have something to give creates a deep confidence for the women and we believe can be one of many positive steps in their journey to a new life. Sewing saved my family when I was young and leaving that legacy of change in each of these sewing rooms is powerful."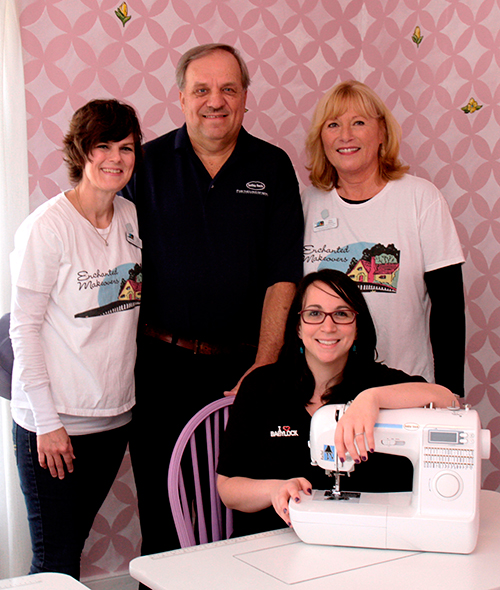 As the Presenting sponsor of the program, Baby Lock believes in what this project represents and its significant potential for improving the lives of women and children. The Enchanted Makeovers team spent hundreds of hours transforming the rooms and is committed to the long term success of this program with Baby Lock local market retailers continuing to support the Sacred Sewing Room project by volunteering to provide maintenance to the machines. They have also offered time to teach Sacred Sewing Room instructors how to use the machines. At each shelter, the residents are encouraged to make something to donate to others as one of their first projects. Some of the projects residents have participated in include making dresses for young girls in Africa and creating bibs for teen moms who are re-building their lives in shelters.
EXPERIENCE the 2014 Sacred Sewing Room Tour: Sacred Sewing Tour Slideshow
DONATE to the Sacred Sewing Room Tour, please visit www.sacredsewingroom.org
About Enchanted Makeovers:
Enchanted Makeovers is a 100% all-volunteer 501 (c) 3 non-profit organization whose mission is to transform homeless shelters for women and children into places that inspire behavioral and psychological change. Through unique projects and programs, a place is created that is supportive and inspirational for the most vulnerable members of our society while rebuilding their lives. For more information, visit www.enchantedmakeovers.org.
About Baby Lock:
Baby Lock has been a leader in the sewing industry for nearly 50 years. The company brought the first home serger to the market in 1964, and since then has introduced patented features to the world of serging. Baby Lock also offers a full line of other products that enhance the love of sewing, including easy to use sewing and quilting machines, embroidery products, exclusive software and industry-leading Gold Standard service and support. For more information, visit www.babylock.com.